Pleating to Pattern
This one day course is for people that have completed the basic curtain course and the Professional Curtain Course and want to continue on their journey and perfect the art of curtain making.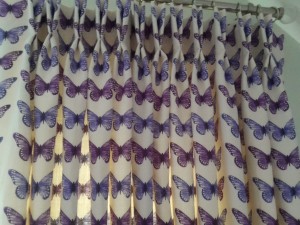 Pleating up curtains to the design on the main fabric is the absolute perfection of curtain making. It takes you to the top of your skills.
Curtains made up with domette interlining and a good cotton sateen lining pleated to the design of the main fabric is the absolute pinnacle of curtain making and will take you to the top of your trade.
On this one day course you will learn how to measure for pleats and then make a template in order that your curtain is finished to perfection.
Curtains for Shaped Windows
On this one day course you will learn how to produce static curtains that fit shaped windows – curtains that fit either arched or windows that are triangular in shape.
Prices
£150 per day course
Accommodation
A selection of B&Bs are available in Alton, plus a Travel Lodge a few hundred yards up the road in Four Marks.
Dates are flexible – phone for details
To check course availability phone 01420 565965.
Cancellation policy- Course costs will be refunded up to 3 weeks before the course. Thereafter fees will be non-refundable, unless the place can be subsequently filled. If a course is cancelled by Blindingly Simple your fees will be refunded.