Description
On the morning of the first day we will talk through and make up a fabulous drum shade, these are a modern, fun shade which you can make up with most fabrics, you can finish it off with a trim if you wish.
On the afternoon of the first day you will start to make up your classical tailored shade. Taping the frame and making a pattern from calico ready for cutting out your main fabric. Assembling the pieces and getting the lining ready to complete your lampshade with a pretty trim.
We will give you the skills and knowledge to complete a unique hand stitched tailored or pleated lampshade which has been lined and finished off with the trimming of your choice.
I have a choice of frames for you to choose from or if you wish you can bring your own frame and create a beautiful hand stitched shade for your own home.
You can choose to make your lampshade from various fabrics but if you wish to produce a pleated shade, light weight dupion silk is the best fabric to use. If you wish to make a tailored shade you should choose either silk or a light/medium weight cotton or linen.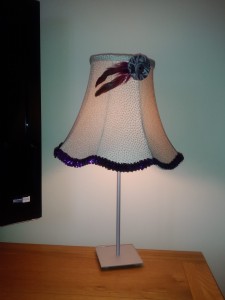 Drum Lampshade – Any fabric is suitable provided it is a light to medium weight, wool, silk or cotton is especially nice.
All shades can be trimmed – perhaps you would like to bring a trim that is suitable for trimming your lampshade. I have several here you are welcome to use but if you want to make sure it compliments your shade perhaps you might like to bring some along.
You will learn the basics from choosing your frame, taping the frame, making the pattern, stretching and securing your fabric in place, lining the shade and finishing off with trimmings.
You will go home with two beautiful lampshades and course notes just in case you forget how to make one next time.
A maximum of three people on each course insures that you receive a plenty of one to one attention.
Arrive here for 9.30am in time for coffee and a chat with your fellow students ready for a 10 o'clock start. Finish approx 4.15pm
We are flexible with dates and we are flexible with payments
You can pay for your course either using a paypal account booking through my website or you can phone me and pay using a Credit Card or you can pay via BACS .
Cost £150 per day. This includes all materials that you will require (excluding your main fabric), a light home cooked lunch is also provided along with tea and coffee.
Cancellation policy- Payment will need to be paid 14 days prior to the date of the course starting. Course costs will be refunded up to 4 weeks before the course. Thereafter fees will be non-refundable. If a course is cancelled by Blindingly Simple your fees will be refunded.